Google Sitemap module used to be by default added on Opencart 3 but in Opencart 4 we need to add it manually and we did not find it in Opencart marketplace so we created the module. Search engine optimization (SEO) plays a pivotal role in driving organic traffic to your online store. One of the essential tools in your SEO arsenal is a well-structured sitemap.
Click the above button to download the Google Base feed module, the file downloaded is webocreationgooglesitemap.ocmod.zip. Now go to the Opencart admin >> Extensions >> Installer >> Then upload the file webocreationgooglesitemap.ocmod.zip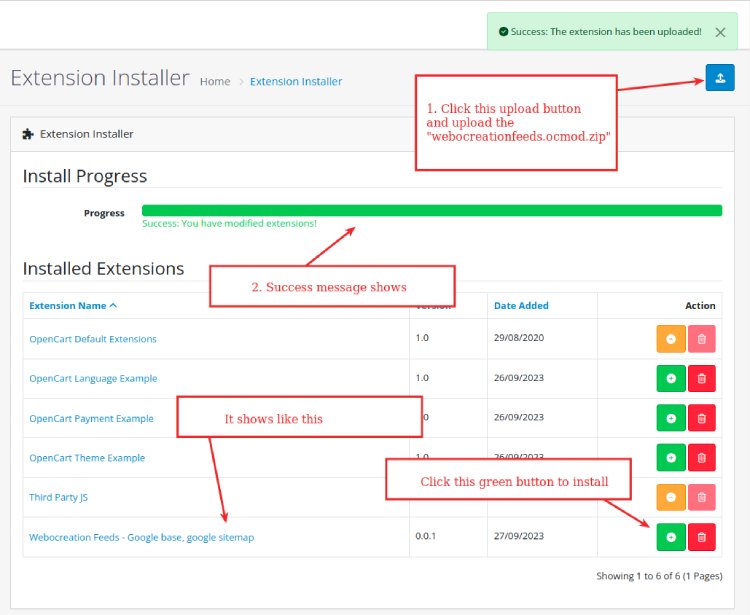 Once it is uploaded and installed. Go to Extensions >> Extensions and filter out to feed.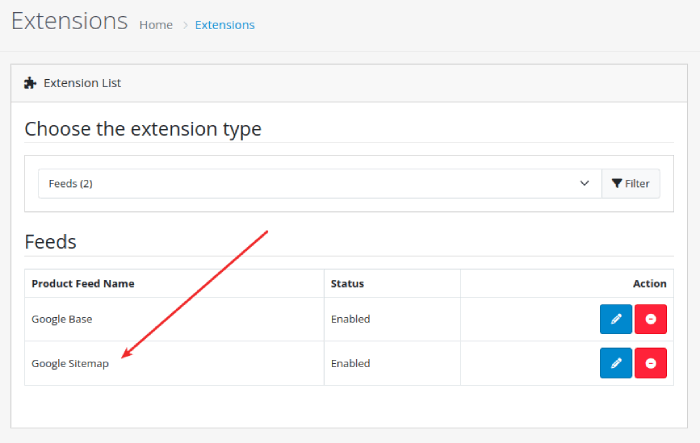 Click the install button and then click the edit button.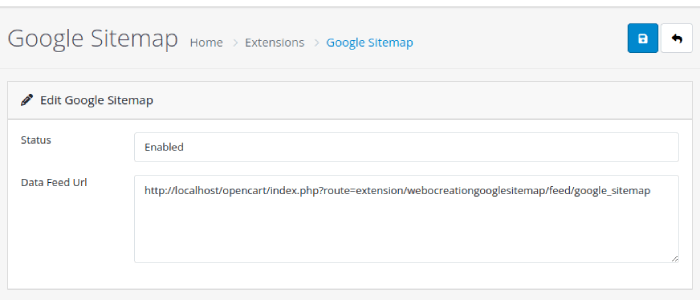 Now, select Enabled and click Save.
Now go to the URL below:
http://YOURURL/opencart/index.php?route=extension/webocreationgooglesitemap/feed/google_sitemap
You will see XML like below: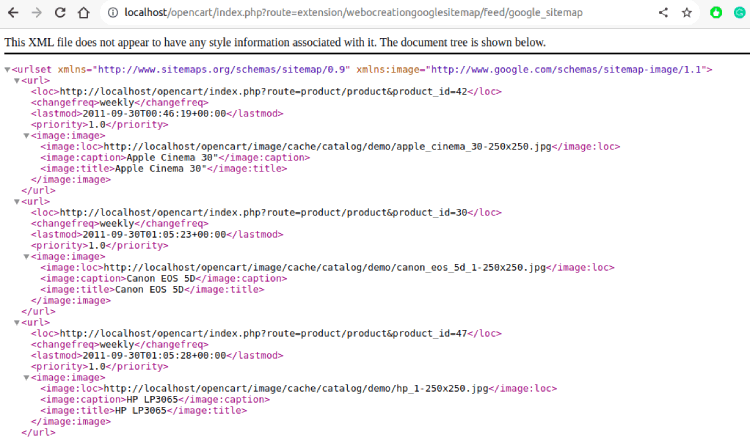 The Importance of Sitemaps in SEO
Before we delve into the module, let's first grasp the fundamental role of sitemaps in SEO:
1. Enhanced Indexing:
Sitemaps provide search engines like Google with a roadmap of your website's structure. This helps search engine bots crawl and index your web pages more efficiently. As a result, your site's content is more likely to appear in search engine results pages (SERPs).
2. Faster Discovery of New Content:
When you add new pages or products to your online store, a sitemap can alert search engines to these changes promptly. This ensures that your latest content is included in search results sooner rather than later.
3. Improved SEO Performance:
By facilitating better indexing and ensuring that all your web pages are accessible to search engines, sitemaps contribute to improved SEO performance. This can lead to higher rankings, increased organic traffic, and ultimately, more conversions.
Introducing the Google Sitemap Opencart Module
Now that we understand the significance of sitemaps, let's explore the Google Sitemap Opencart module and how it can elevate your SEO efforts:
1. Automated Sitemap Generation:
This module automates the process of creating and updating your website's sitemap. You no longer need to manually generate and submit sitemaps to search engines. It handles everything seamlessly.
2. Dynamic Content Inclusion:
The Google Sitemap Opencart module is designed to include all the essential content on your site, such as product pages, categories, information pages, and even manufacturer listings. This comprehensive coverage ensures that search engines index all your relevant content.
3. Priority and Frequency Settings:
You have the flexibility to set priority and update frequency for different types of content. For instance, you can prioritize product pages over informational pages, indicating to search engines the relative importance of each.
4. Multilingual and Multistore Support:
For OpenCart users with multilingual websites or multiple stores, this module offers seamless support. It generates sitemaps for each language or store, making it incredibly versatile.
5. Efficient XML Sitemap Creation:
The module generates XML sitemaps, which are the preferred format for search engines. These XML sitemaps are well-structured and adhere to industry standards, ensuring compatibility with various search engines.
6. Improved SEO Performance:
By consistently providing search engines with up-to-date and well-organized sitemaps, you're enhancing your website's SEO performance. This can lead to higher search engine rankings and increased visibility among your target audience.
Conclusion
The Google Sitemap Opencart module is a valuable addition to your SEO toolkit, streamlining the management of sitemaps and improving your website's search engine visibility. By automating sitemap generation and ensuring that search engines are well-informed about your site's content, you're giving your online store a significant advantage in the competitive world of e-commerce.
Investing in SEO tools like the Google Sitemap Opencart module not only enhances your site's performance but also positions your business for sustained growth and success in the digital marketplace. So, take the initiative, install the module, and watch your online store climb the ranks in search engine results.
In this way, you can install and set up the Google Sitemap feed module for Opencart 4. Please let us know if you have any kind of projects, you can email us at webocreation.com@gmail.com. Hope you liked this free opencart module, please subscribe to our YouTube Channel and get more Opencart free extensions. You can also find us on Twitter and Facebook.